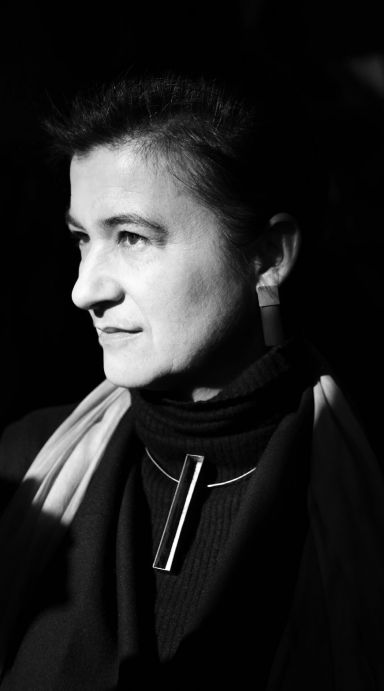 On the floor rays of rust and cherry-red light filter reflections, the play of chiaroscuro through Chinese windows, creating lacy paper-cuts and origami patterns on floors and walls. These shadowy images spill over the creative mess of sketches and paper-cuts strewn on the wooden desk where Kathrin von Rechenberg works, refining the textures and lightness that characterize her choice of fabrics. The walls are covered with pinned, hand-drawn sketches attached to pieces of cut fabric in indefinable shades of rust. Her blue indigo-stained hands, almost sculptural when folded, reach out to touch the colors, feel the textures.

When she breaks the rhythm of her work to go out into her garden maybe that's where she captures all the details of the afternoon sun and the blossoms.

Sometimes, you enter the studio to the sound of classical music playing and recognize her love for Bach, inspiring her as she leads her small team with precision and attention to every minute detail.Her rigorous and unrelenting process in the search for the lines and architecture to be teased out of the unstructured silk fabrics that then freely adorn the shapes of her wearers, is unique.

She folds and cuts the patterns into geometric shapes - triangles, squares, and lines - then blends those freely, releasing the fabric from its geometrical grid and transforming it into light and floating forms, akin to musical punctuation, stops and pauses.

These are the lines and melodies found in free-form poetry: she wrapped you as if everything that exists, aromas, light, metals in your dress and it fly like a dash of wind around your body.

Kathrin von Rechenberg has made her home and has been working in Beijing since 2000. Graduated from Paris's distinguished fashion and design school, the "Ecole de la Chambre Syndicale de la Couture Parisienne" she honed her craft in various Haute Couture houses such as Jacques Fath, Jean-Louis Scherrer, Christian Dior, Christian Lacroix and Chanel before striking out on her own.

She came to China in search of a very special fabric known as "tea-silk" which has since defined her and become the signature on which she founded her own label. It remains today a cornerstone of her collections. The natural dyeing process of this special silk continues to fascinate her and has inspired her to work with other natural dyes. She creates her own materials by experimenting with different traditional and natural dyeing.


Kathrin von Rechenberg's boutique is based in a fascinating environment revealing traces of the past - a rare and preserved corner in the old capital of Beijing. Here, you can still find peace and birdsong, and an escape from the insistently raucous noise of the City. This quiet location that takes you back in time, is where Kathrin has chosen to establish her brand, among the traditional Chinese windows and doors of the former Sino-French University, a stone's throw from the Forbidden city. The shadows of Old Beijing connect her with her surroundings and make her a part of this culture, allowing her to touch the past and draw from the walls, new inspirations for her collections.

Her boutique and the place itself become infused with the traditional culture and at the same time, generate their own culture. There is a piano standing in the center of the room, for Kathrin enjoys playing her flute and sharing her love of music with her friends. This other, classical training and discipline mingles her own culture with the classic culture of the city of Beijing. Those notes and voices, those harmonies and tones, influence her work and her designs.

Kathrin's inspiration, is born of her unique integration with Chinese tradition. Her creations have led her to work with the singer Gong Linna and her husband, the German composer Lao Luo. Inspired by their music she created in 2016 a special collection for their Concert, "The Five Elements of Love" at "Beijing Tianqiao Performing Art Center" in which she conveyed through silks, passionate fire, yellow and jades clashing with the elements.