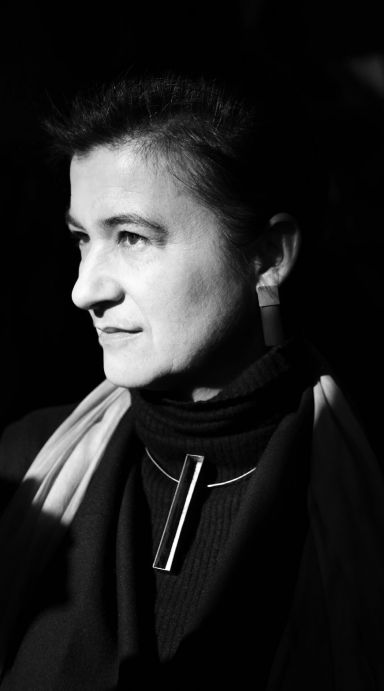 Kathrin von Rechenberg has made her home and has been working in Beijing since 2000. Graduated from Paris's distinguished fashion and design school, the "Ecole de la Chambre Syndicale de la Couture Parisienne" she honed her craft in various Haute Couture houses such as Jacques Fath, Jean-Louis Scherrer, Christian Dior, Christian Lacroix and Chanel before striking out on her own. 

She came to China in search of a very special fabric known as "tea-silk" which has since defined her and become the signature on which she founded her own label. It remains today a cornerstone of her collections. The natural dyeing process of this special silk continues to fascinate her and has inspired her to work with other natural dyes. She creates her own materials by experimenting with different traditional and natural dyeing.
For her 20 years of dedication to tea silk, in 2020 Kathrin von Rechenberg got awarded the title of "Friendship Ambassador for Textile Intangible Cultural Heritage" by the China National Textile and Apparel Council and recently "Ambassador of Chinese Xiangyunsha Intangible Cultural Heritage" by Foshan Shunde Lunjiao XiangYunsha Association.
rechenberg boutique design
The new Rechenberg boutique opened in late spring 2019, in the Qianmen East area of Beijing, located South of the city's historic Legations quarter. This leafy revitalised corner of the city is drawing more and more people attracted by its growing number of individually styled restaurants, inviting cafes and design-led boutiques. Entering Rechenberg is to experience an "authentic immersion" into Kathrin's world. The Rechenberg name stencilled onto an iron Stele, stands beside the entrance, defining the signature haute-couture brand for which she has become justly known. It is an invitation to explore the realm of her imagination, expressed through the elegantly simple clothes that sophisticated women love to wear.

The new space, interior-designed by Kathrin herself, extends over 2 floors. She explains 'I followed the same thread I use when I design my clothing. In the same way as I create space around the body, I created a wallpaper, 'fabric' with which to line the walls, and a look for the boutique interior that gives the space an organic and translucent feel'. The long lengths of handmade Xuan paper, randomly overlaid, marking the organic texture of Kathrin's garments and the walls appear to be breathing.

The focal point of the boutique's interior is the staircase that encloses a void and, at the same time, expands the space as it connects the two levels, each one marked by high ceilings. The traditional wooden structure of the roof can be admired from the lower level.

The natural Indian slate floor reflects the many hues that inspire Kathrin as she creates her color palette and forms her shapes, taking nature as her teacher.

Plants are an intrinsic part of Kathrin's workshops and showrooms. The shuliang creeper-vine whose tuber provides the tannin and red colour essential for Tea silk dyeing is a clear metaphor for her art.

The lower level often serves as open space extending to the street for events and concerts. On first entering the space, a high wall with openings from floor to ceiling attracts the attention. Long and translucent silk hangings conceal an area behind the openings used as a storage room for silk clothes, evoking a 'sense of timelessness'" inspired by Chinese ink scroll painting and dyed by Kathrin herself. The walls become their frames and reflect Kathrin's passion for the principles of geometry, an essential element that informs but never dominates her designs.

The boutique is also an attractive gathering place for Kathrin's friends, musicians and artists who enjoy coming together in the inviting space to share their respective talents. Recently, following Amy Grubb a contemporary dancer, and Kathrin's sister Helene von Rechenberg, He yi a Chinese singer and Guqin artist, who loves to wear rechenberg on stage and in daily life, was delighted to be photographed modelling selections from Kathrin's collection.

rechenberg Art Couture
address : N°112 Xixinglongjie, Dongcheng district, Beijing 100062
工作室地址:北京市东城区西兴隆街112号
We are looking forward to seeing you here anytime from Monday to Saturday, from 10am to 6pm, and by appointment
营业时间: 周一到周六,早10点-晚6点,可提前预约。
tel:+86 10 64631788
info@rechenberg.cn
www.rechenberg.cn
facebook : rechenberg art couture